September 9th-18th 2022
I was a bit disappointed when I heard that the European Championships were going to be hosted in Sardinia again. My memories from the Europeans in Sardinia 2016 were not the best. It had been a little chaotic with not enough information during the week. We competed on flat water despite there being beautiful wind blowing everyday. But a championship is a championship and most paddlers with ambition want to go there to compete against the best. I wanted to bring the upcoming youngsters Leo, Otto and Jakob U16 -U18. I had gotten to know them a bit better the past year through some training camps. Three young men in U16 -U18, how cool is that? Sweden is a very small surfski nation and we struggle to find young people wanting to train and compete. This year (2022) we were lucky to have a group of boys from the south of Sweden wanting to push the bar a little higher.
Planning a trailer to Sardinia is not task that excited me – but luckily I had some nice friends who took this task off from my list. Chloe Nauta and Jan Berglund made sure to book all ferries, make a budget and get more Swedish paddlers on board. Some other helpful paddlers in Stockholm borrowed a big trailer on which we could load around 22 skis. And luckily there were people wanting to drive the trailer and the U16/U18 boys down to Sardinia. They seemed to have such a good time in the van that I almost regret flying. A huge thanks to Örjan, Thony B and Thomas.
I arrived to Sardinia on the weekend, about a week before the competitions. I spent a day looking around the island. Sardinia is huge so we rented a car and chose to explore some beaches not too far away. I got to experience crazy car drivers, beautiful scenery and a picturesque village in the mountains. The weather was beautiful and warm and I could even stay in the ocean without freezing. And the food was as beautiful as the weather.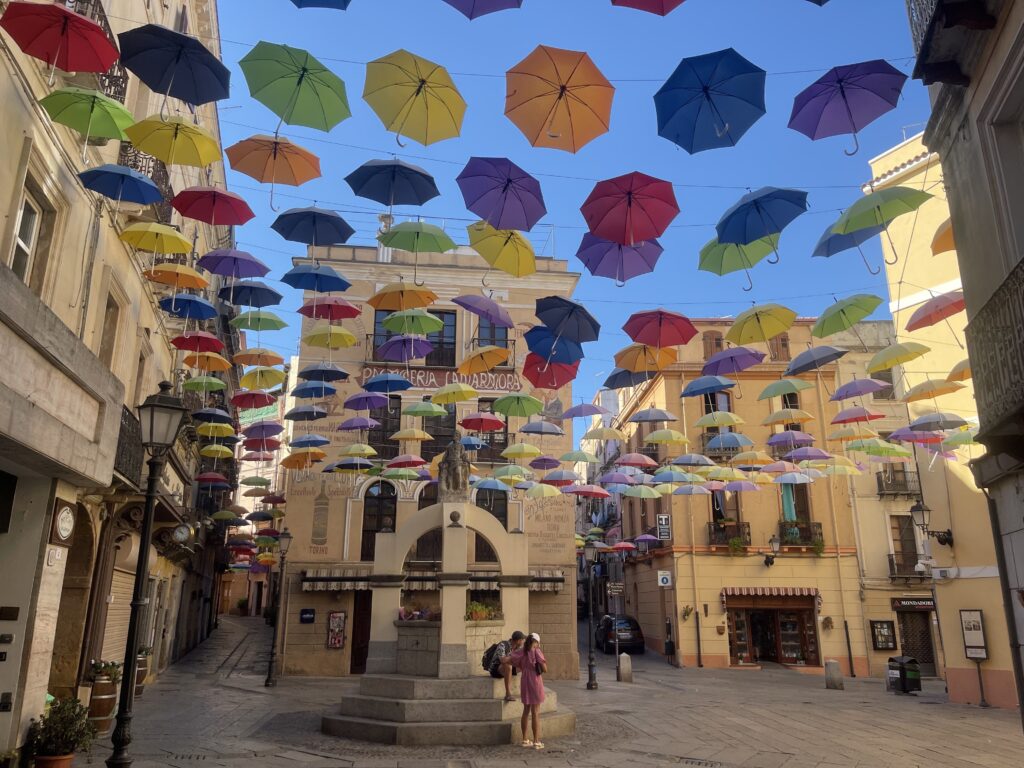 As last time in 2016 I stayed at the Cala Serena resort. Örjan, Thony, Leif, Thomas, Chloe and the boys were also booked in at the resort. It was very nice to hang with them both during the meals and during our free time. The resort booked up so quickly for the competition that the other Swedes chose to stay in smaller houses near the resort area. Resort life is not my favorite but it is very convenient since I don't have to think about food and shopping. The boys seemed to appreciate it a lot – they must have tasted everything on the buffet!
The wind forecast for the weekend made me nervous. The directions shifted around a lot and no big windspeed to talk about for most of the race days. I knew the organizers wanted to run the competition as early as possible during the race window. I heard rumors of running the race on Thursday, and that the wind on Saturday could be too much for the organizers. We are all very happy when we finally got the information that the race was going to be hold on Saturday with the best wind forecast possible. Could it have been Oscar Chalupsky (the race manager) convincing the crew? Oscar always wants a big downwind and I was totally on board! It would be a great day for an European Championships. I was very excited of course since I knew my chances to reach the podium suddenly existed. I knew I would also have lots more fun out there if there were waves. And fun is what we all want to have on the ocean, right?
The day before the race I studied the forecast properly and decided to plot the route in my GPS watch. I knew it would be easy to find the finish already from the start at Poetto Beach, Cagliari. I could just aim for that rock! But with an offshore wind of 30 knots pushing me out I understood it wouldn't be easy to go 100% straight. And falling off the course by 200m would add some upwind paddling in the end. And that costs time even though it's not far. If the wind would blow straight from behind It would be easy to traverse to all directions. But on Saturday the wind was going to blow hard on my left shoulder and I understood it would be some work to surf straight towards the finish.
Waiting for Saturday was almost painful. Trying to train a bit but not too much. I had pain in my neck and got some help from Thony (napropath) to ease it up. Painkillers and some exercises helped a bit and on Friday evening I could paddle without thinking about it. I prepared my nutrition and had decided to go with Cola and Redbull, an advice from a friend back home. And yes, I had tried it during training earlier that week. Racing in warm waters is easy. Dress minimal, wear sunscreen and a visor. Done!
I had figured out I would have a good chance to reach the podium. I had the capacity to paddle faster than both Amaia and Chloe Bunett if there were waves. Both the girls together with Judith Verges, have been on the podium earlier. And none of them was in a bad shape this season – it was going to be a tight race between the four of us!
Saturday morning – race day
Jakob och Otto (U18) were very excited and they lightened the mood a lot. Leif and Örjan also seemed happy and without too much worries. For me the feelings consisted of anxiety and pressure. I just wanted everything to be over.
It was a bit tricky to handle the skis in the strong wind. It's like handling a very nervous horse, who doesn't relax until you sit up. Finally the women got to line up and I chose to stand at the left end of the field. It turned out to be a good choice since I got the nearest route out from the beach.
We were off and thanks to my position it took some time before the faster paddlers had passed me, and there were quite a lot of those! By experience I knew I would pass most of them as soon as the waves started to build up. And I was right.
One by one they dropped behind me the more I could catch the waves. The waves were still small and short but I definitely gained speed by traversing them and push a little extra where needed.
Judith was already far ahead and it was now up to me, Chloe and Amaia to bring up our skills and fight for the podium. For me it was all about staying focused, or, 'stay in the boat' as we say. I saw Amaia choosing a line further out and I understood it wouldn't be the best choice. I tried to be strict on my line, following the route in my GPS. It turned out to be harder than I thought the faster the waves got. Catching a wave sideways takes more effort than catching the wave in it's direction. Sometimes I had to go with the wave to be able to catch it. And sometimes I had to let go of the wave to keep my direction towards land. Can someone give me bigger muscles please? When I caught a wave in its direction I directly lost 30 meters from my course.
It was hard work but so lovely to surf. The waves were now big and pushy, blue and beautiful. The ocean was warm and the white caps made the ocean look furious. I love that!
I got closer to Chloe and suddenly I passed her. But when she saw me it was like she woke up from a little rest and she found her extra gear. I was soon behind her again and tried not to get too disappointed and distracted by that.
Everything worked well during the race – except for my brain. My Nitro felt like an extension to my torso and it did everything I asked it for. We had spent lots of time together that summer and today we both got to show off what we had learnt together. The surf rudder was an excellent choice since it gave me perfect grip while side surfing. But my brain left the ski at times and I was a bit frustrated fighting with my own feelings of pressure.
I kept pushing, fighting and trying to stay in the ski. I was on a perfect line towards the big yellow bouys and I didn't have to paddle a meter longer than necessary to finish. I was about 15 seconds behind Chloe crossing the finish line. I hadn't seen Amaia but was pretty sure she was behind me. But still… I could be wrong. Some fellow swedes watching us finish the race told me I was third. But still, I could not trust it. Later I got proof of my third place and I could relax. But all I felt was relief.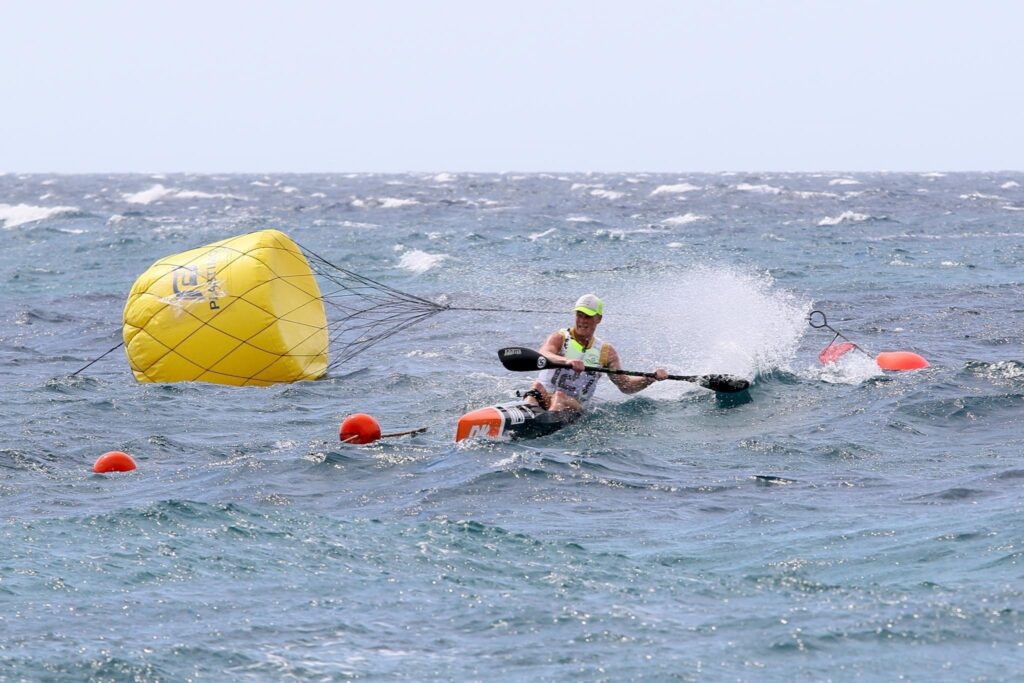 Valentin Henot was the fastest man closely followed by Gordan. Gordan seemed to have taken the same outer line as Amaia and probably lost some seconds in the end.
I am happy that Sweden got a senior medal at the Europeans. It was the first time – like a bit historic even though the surfski history in Europe is not very long. I have always been proud of competing for Sweden. I want to show people that it is possible to become a decent surfski paddler living in this cold country. We have lots of wind and lots of coastline, which is possible to reach from nearly everywhere. There is no such thing as private beaches in Sweden. Yes it's cold during some months but it doesn't stop us from paddling. I have been at so many beautiful places for downwind paddling in Sweden and I believe it's a perfect surfski destination in the summer. I would love to see an European Championships being arranged in my country. Maybe one day…